September newsletter, Ventana news – Vensim 8 & Ventity 3 releases
Categories: Uncategorized
This article was published on: September 4, 2019
1. Vensim 8
2. Vensim 8 launch sale, throughout the month of September 2019
3. Ventity 3
4. Online courses.
5. Applications
6. In the Forum.
7. System Dynamics Conference News.
8. Resources for Vensim users.
9. Our official distributors
—————————————————————————————————
1. Vensim 8 Release
—————————————————————————————————
Vensim 8 has been released. It's is now fully 64 bit on both Mac and Windows (you can still download 32 bit versions if you need to).
The Mac version has undergone some significant improvements both to stability and usability. If using DSS, also included is an external function library project, and the scripts to allow models to be compiled. We are working on a dylib for the Mac in a similar way that the Vensim DLL operates on Windows.
All configurations of Vensim now use double floating point precision for both calculations and results storage
New file formats to allow compatibility with 64 bit operating systems which also allow very large datasets
New savelist editors speed up definition of sensitivity runs
Behavior graphs' sizing can now be set
Improved XMILE support
Translations : Vensim has been translated to Spanish (click Tools->Language and select Spanish)
Synthesim is enabled for sensitivity simulations, exploiting Vensim's speed to make risk and uncertainty interactive.
If you've been using the beta or first official release (July/early August), it's worth upgrading to the latest 8.0.1, which contains an important fix for autosaved backups.
—————————————————————————————————
2. Vensim 8 launch sale, throughout the month of September 2019
—————————————————————————————————
If you've been waiting to move to the premier dynamic modeling tool, or to extend your maintenance and upgrade to the latest version of Vensim, now is a great time. All Vensim editions are on sale, 20% off, through the end of September 2019.
Buy direct at the Vensim store, https://www.vensim.com/store. At the checkout stage, enter the coupon code LAUNCHSALE. For academic and public research users, please contact us for the discounts.
Contact sales at vensim@vensim.com for volume quotes and other information. Extend your maintenance for a year of upgrades by logging in with your license key on the download page, https://www.vensim.com/download.html.
—————————————————————————————————
3. Ventity 3 Release
—————————————————————————————————
We released Ventity 3 at the System Dynamics conference in Albuquerque. We enjoyed the Thursday workshop, where we got a chance to work with serious practitioners on applications that challenge the limits of traditional SD tools.
Ventity 3 includes new user defined macros and a beta geospatial visualization feature (much improved in the latest 3.0.1 edition). We're particularly excited about this, because Ventity's data architecture is a natural fit with GIS.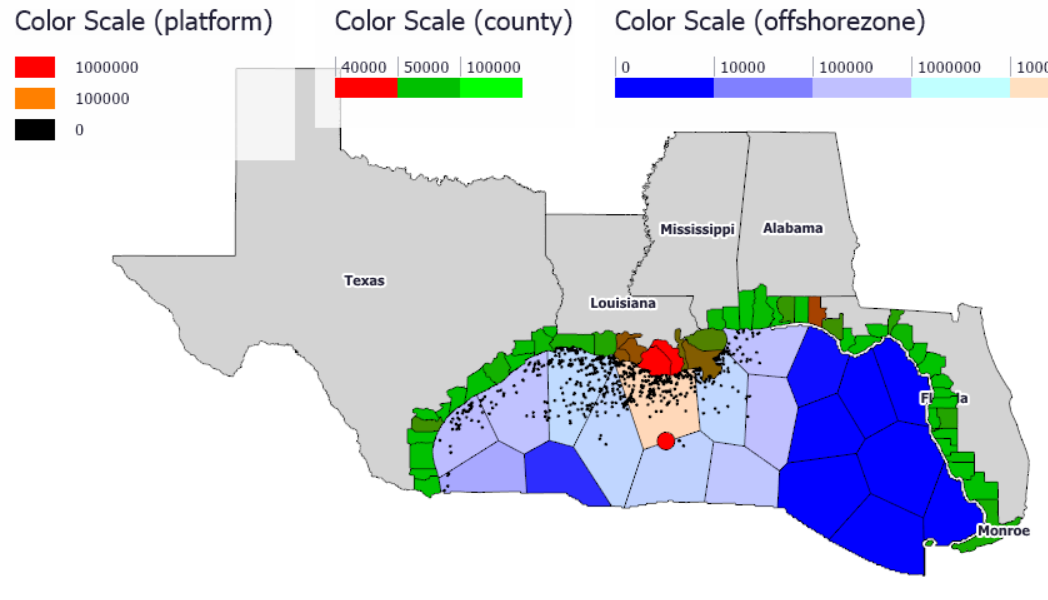 Above: Ventity geospatial visualization of economic impacts of an oil spill in the Gulf of Mexico. Data is sourced from shapefile attribute tables. Entities are linked to polygons and interact by networks. Colors and animation reveal behavior over time.
Ventity is targeted at problems that are hard to solve in most simulation languages. For example:
Consumer products: build a marketing mix model for a portfolio of products across multiple regional markets, distribution channels, brands and package sizes. Ignore combinations of dimensions that do not exist, and launch or cancel products on the fly.
Health care: model doctors, patients, diseases and their relationships explicitly, with agents, or in a variety of aggregate styles, including dynamic cohorts (see our paper from ISDC 2017).
Energy: model a building portfolio with construction and retrofits, preserving the age distribution of buildings without suffering the limitations of coflows and discrete delays.
Environment: build an integrated assessment model that can change the granularity of emissions from state to country to region to globe at the flip of a switch.
Logistics: simulate a supply chain, specifying the links among levels with data.
The really big change from most simulation languages is that we've replaced arrays with collections of entities, identified by attributes. This makes for a more natural and data-friendly problem description. Detail becomes a property of entities, not equations, which makes it a lot easier to coordinate and change. Entities are modular, so they're easier to reuse and share among teams. Entities can be created and deleted dynamically, so there's no need to simulate a lot of zeroes for things that haven't happened yet. Similarly, a list of entity relationships can represent a sparse matrix, so there's no need to clutter your model with zeroes for project phases that aren't prerequisites or relationships that don't exist among people. All this happens in a development environment with modern, interactive charts and windowing.
Ventity is available with a free trial and academic license, and affordable commercial subscriptions. Vensim Pro and DSS licenses with current maintenance include a commercial Ventity subscription. You can learn more and download a trial at Ventity.biz. If you have a previous expired trial, and would like to take another look, contact us for a license extension. http://www.ventity.biz
If you're new to Ventity:
The Help system contains a lot of good "getting started" material, including a series of videos, which are also on Vimeo, starting with
The Ventity support forum is up and running at
http://www.ventanasystems.co.uk/forum/viewforum.php?f=48
—————————————————————————————————
4. Online courses.
—————————————————————————————————
We now offer basic, intermediate and advanced online courses in both English and Spanish. Those courses are addressed to students, teachers, researchers, consultants, professionals and public managers.
More information on the web https://vensim.com/vensim-online-courses
—————————————————————————————————
5. Applications
—————————————————————————————————
We regularly see impressive applications of Vensim and note them at Vensim.com or on social media. If you've developed something cool, drop us a note and we'd be happy to share your news!
Here are two can run live, online:
The latest version of the award-winning C-ROADS climate change policy simulator is powered by Vensim, using Todd Fincannon's open SDEverywhere transpiler to run in a browser with an elegant interface and speed and interactivity rivaling Synthesim. Its companion En-ROADS, due this fall, is even more elegant.
Energy Innovation has an Energy Policy Simulator that lets users explore what it takes to achieve energy and emissions targets, in detail. The simulator has a custom HTML5 interface that runs a Vensim model on servers using the Multicontext shared library. The interface was developed by Todd Fincannon. It has extensive documentation, and the Policy Design Guide explains many energy system policies in the internally consistent framework that a model provides. You can also download and run the open source model on your desktop.
—————————————————————————————————
6. In the Forum
—————————————————————————————————
The Vensim support forum at http://www.ventanasystems.co.uk/forum provides quick-turnaround help on a variety of Vensim questions. It now has over 2000 successfully answered queries, and also contains the archive of the SD mailing list.
A sample of recent topics:
Is there an equation for counter in Vensim?
How to run sensitivity simulations with Vensim DLL
Change the default legend in the custom graph tool
Interactive and Dynamic Cohorts
Initializing entities from a stack?
—————————————————————————————————
7. System Dynamics Conference News
—————————————————————————————————
Ventana Systems thanks the SD Society for another great conference. We enjoyed meeting new and old friends and seeing new developments in the field. We were happy to see many papers providing runnable models, with many high-quality papers powered by Vensim..
We look forward to seeing you in Bergen next year! http://conference.systemdynamics.org/
—————————————————————————————————
8. Resources for Vensim users
—————————————————————————————————
Visit us at https://vensim.com, http://ventanasystems.com and http://www.ventity.biz to keep in touch.
Buy direct at the Vensim store, https://www.vensim.com/store
—————————————————————————————————
9. Our official distributors
—————————————————————————————————
We have a number of distributors in many parts of the world (Brazil, China, Czech Republic, Slovakia, Poland, Hungary, Slovakia, Latvia, Estonia, Lithuania, Slovenia, Serbia, Croatia and Bosnia and Hercegovina, France, Germany, Japan, Korea, Mexico, Spain, United Kingdom). Some run courses, all can provide tecnical support and help. For contact details, please see
https://vensim.com/contact-us/
For our UK-based users, please sign up to the Ventana Systems UK newsletter http://www.ventanasystems.co.uk/.  We'll let you know about upcoming Vensim workshops and any networking events to be help in the UK.